The Macomb Police Department is committed to providing residents and visitors of the Macomb Community with professional and responsive police services that enhance the quality of life and keep Macomb a great place to live, work, and visit.
Since 2012 the Macomb Police Department has been accredited by the Illinois Association of Chiefs of Police's Illinois Law Enforcement Accreditation Program (ILEAP). This certification recognizes the department's commitment to the professional standards of modern law enforcement.
The department provides 24-hour coverage to the community and is comprised of 25 sworn officers, a K-9, and five civilian support personnel. The support personnel and two divisions – Patrol and Investigations – work together to ensure the public receives the highest quality of comprehensive services possible.
The department is very proud to offer several community engagement programs that encourage partnerships, shared understanding, transparency, and investment in our most precious resource – our youth. The department offers a year-round ride-along program, an annual Citizen Police Academy, a Police Explorer Program, K-9 demonstrations, and instruction on DARE curriculum. The department also has a School Resource Officer assigned within the Macomb School District.
In addition to these programs, the department works in partnership with area social services and public safety agencies to provide multi-disciplinary community problem-solving to the area.
Macomb Police Officers are some of the best-trained officers in the state. Each year officers exceed state training mandates, providing them additional skill sets in de-escalation, crisis intervention, and much more to ensure a high quality of service to the community.
Easy Access to
Online Reporting
The Macomb Police Department is currently utilizing Online Reporting.  The reporting systems is for offenses listed below:
Theft-When there is no suspect and a report is needed.
Vandalism-To report any vandalism where there is no suspect.
Damage to Property-Where a complainant does not have a suspect.
Lost Item-When a complainant lost an items and just wants to report it.
If there is an Emergency please contact 9-1-1.  If you are unsure if do not need an officer to report a crime please call the non-emergency number 309-833-4505.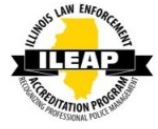 Illinois Law Enforcement
Accreditation Program
The department remains professionally accredited by the Illinois Association of Chiefs of Police through their Illinois Law Enforcement Accreditation Program (ILEAP). The ILEAP Accreditation award symbolized the department's achievement in excellence. The agency has reached a level of professional esteem through audits, inspections, and peer critique in an effort to maintain the best practices in the field of policing. the department has been accredited since October of 2012 and recently completed the re-accreditation process in December of 2017. In addition, the department is currently a Tier 2 accredited department.
MACOMB POLICE NEWS RELEASE links